Frame Measurement
If you're unfortunate enough to part company with your pride and joy whilst out and about and are unsure of whether anything has gone a bit wonky or if you have bought a machine (New or used i might add) that just doesn't seem to handle how it ought to, get in touch with us, we can help you.
We have carried out measurement and straightening work on all kinds of motorcycle, new and old. We can optimise the geometry of your racing bike to make it turn how YOU want.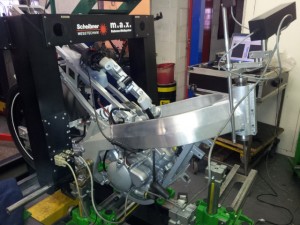 By utilising the latest technology, we can measure your bikes chassis and determine exactly the offset, steering head angle, camber, horizontal and vertical measurements between the headstock and swingarm pivot. Also we can check for twist and misalignment in the rear subframe and swinging arm swingarm.
Our database contains index data for hundreds of different makes and models and is regularly updated.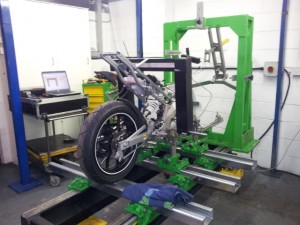 Based on our measurements of your machine and our database, we will advise you on whether your chassis is economical and safe to repair and the cost involved in doing so.
The major advantage of our system over others is that we can perform the measurements on a fully assembled motorcycle, if the gods have smiled on you and your frame is fine you can ride away without the expense of us having to mount the bike in our jig to take measurements. The process takes about an hour and a half and you're more than welcome to hang around and have a coffee while we do it.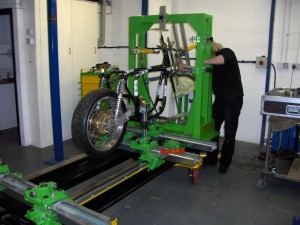 Frame Straightening
If your frame is bent but repairable. we will mount it into our straightening jig, where we can push, pull and twist it back to true using hydraulic rams. If the misalignment is minor this can usually be done cold but in more severe cases heat needs to be applied to allow the frame to realign in the correct places, we will advise on this at the measurement stage so you can factor any refinishing costs into your total budget.
What our Customers have said….
Morning Gents,
Please find attached pictures from the alignment checking of my CBR.
I cannot thank you guys enough for a level of service I have rarely come across in any line of business.  I now have piece of mind in proceeding to get my bike back on the road again.
Best of luck with the racing and in business.
I have only one complaint, and that is that I have to drive 200 miles and 4 hours to get to you!!!
Thanks again,
Ross Grimmett